UNOX CHEFTOP MIND Maps PLUS Electric 5 Trays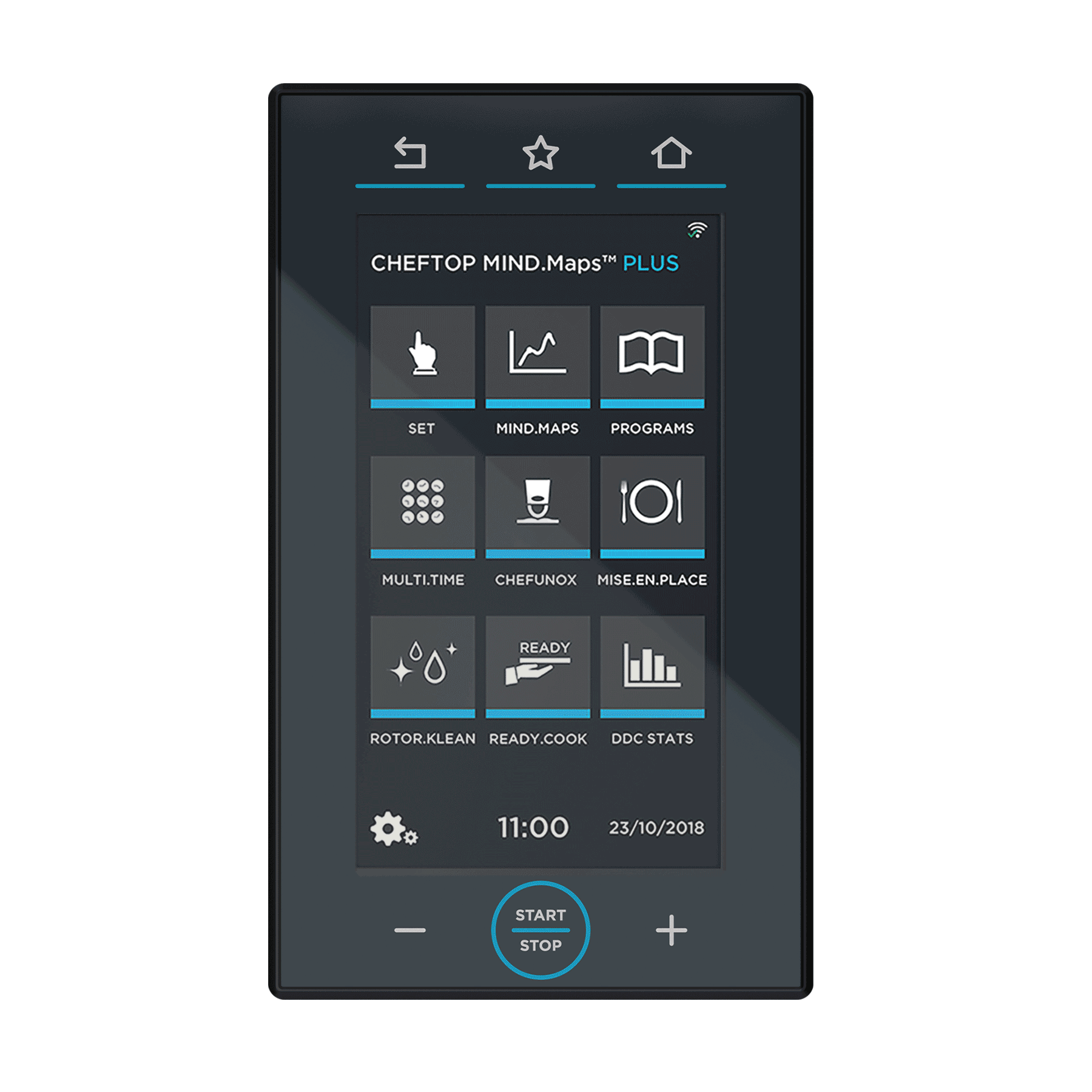 Intelligent combi ovens for Foodservice Professionals
Easy. Comprehensive. Intelligent.
Manual and MIND.Maps™ programming, fully-automated cooking and baking processes, 384 programs memory, MULTI Time and MISE.EN.PLACE programming to manage 10 concurrent cooking processes, simplified READY COOK programming.
The CHEFTOP MIND.Maps™ PLUS oven from UNOX is a combi oven which, by using the latest and most advanced technologies, including artificial intelligence, provides concrete support for your work processes. It adapts to any type of kitchen and is easy to use, even by less experienced staff, thanks to a huge amount of automatic programs available.
CHEFTOP MIND.Maps™ PLUS is the best combi oven for those who work in the world of catering, banqueting, hotels, restaurants, large kitchen, and any other foodservice application. It is available in 3 to 10 tray countertop versions and in the trolley version, with 20 to 40 trays.
Designed to meet the most demanding expectations; yours. CHEFTOP MIND.MapsTM PLUS is the intelligent combi oven that grills, fries, roasts, browns, smokes, cooks with steam and much more. It's automatic cooking cycles and intelligent functions create impeccable and consistent results.
Data Driven Cooking
DATA DRIVEN COOKING allows you to control your oven at any time, anywhere. You can monitor its operating conditions in real-time, create recipes and send them to your ovens.  The AI transforms the consumption data into useful information in order to increase your daily profit.
Key Features:
CLIMALUX: Precise humidity control.

STEAM.Maxi: Humidity and steam production.

DRY.Maxi: Forced extraction of humidity.

AIR.Maxi: Multiple fans and auto-reversing fan speed.

DATA DRIVEN COOKING

Hinged Left (Right Hand Door)
9.5" Touch Control Panel Built-in WiFi
Spesification
Commercial name: 5 GN 1/1 PLUS

Power supply: Electric

Type of control: PLUS

Number of trays: 5

Tray size: GN 1/1

Distance between trays: 67 mm

Frequency: 50 / 60 Hz

Voltage: 380V 3Ph

Weight: 67 kg

Electric power: 9,3 kW:

Width: 750 mm

Depth: 783 mm

Height: 675 mm
Download