Bread Moulder | Harga Dough Moulder Penggulung Adonan Otomatis
Alat Penggulung Adonan – Bisnis kuliner sekarang ini sangat digandrungi di Indonesia karena keuntungannya yang menjanjikan. Semakin banyak toko roti didirikan untuk memenuhi kebutuhan para konsumen penggemar kuliner. Dan untuk menghemat waktu dan tenaga, Anda tentu membutuhkan bantuan mesin bread moulder dalam proses pembuatan roti.
 Dough Moulder comes in compact size and suitable to mould dough to make rolls, toasts, baguettes and others.
Apa Itu Bread Moulder | Mesin Penggulung Adonan?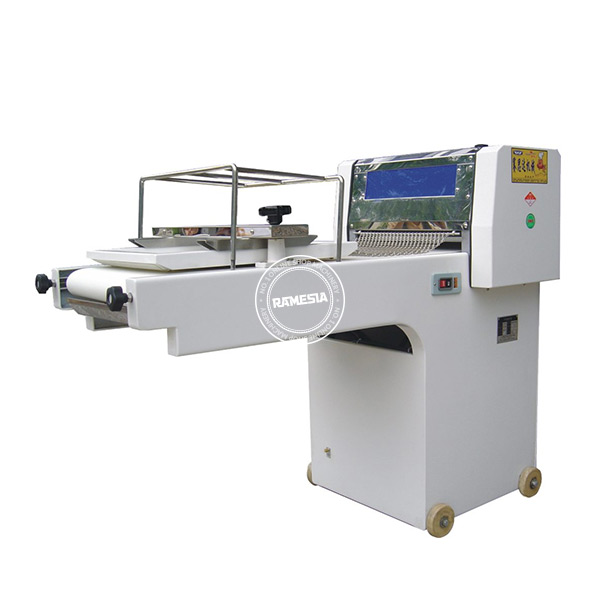 Dough moulder adalah salah satu mesin yang banyak digunakan oleh industri roti atau toko roti. Mesin ini digunakan untuk mencetak adonan roti dengan cara menggulungnya dengan ketebalan yang sama.
Mesin pencetak adonan ini memiliki fungsi untuk mengolah adonan roti antara lain membentuk lembaran adonan, menggulung serta mencuci bagian bawah adonan. Dengan memakai alat ini bias menghasilkan hasil cetakan yang jauh lebih banyak dan maksimal dari pada dengan cara manual.
Mesin ini biasanya digunakan untuk membuat adonan roti tawar, hot dog, dan French roll yang mengembang, empuk dan berisi. Karena keunggulan dari mesin penggulung ini, para pengusaha roti yang sedang berkembang mulai menggunakannya. Hal ini dikarenakan mesin ini memungkinkan mereka untuk menghasilkan banyak roti dalam waktu singkat.
Jika ingin mengembangkan usaha toko roti Anda, mesin pencetak adonan ini adalah salah satu mesin yang wajib dimiliki. Tinggalkan cara manual yang lama dan beralihlah dengan menggunakan mesin penggulung otomatis.
Bagaimana? Anda tertarik untuk membeli mesin Ramesia ini? Untuk pemesanan, Anda dapat menghubungi Ramesia. Anda juga dapat mengunjungi situs resmi Ramesia yaitu pada [email protected]  Jika Anda ingin melihat alat penggulung dan mengetahui langsung produk ini secara detail sebelum membelinya,  Anda dapat mengunjungi gerai Ramesia.
Daftar Harga Dough Moulder Ramesia
Disclaimer :
Spesifikasi dan harga dapat berubah sewaktu-waktu tanpa pemberitahuan terlebih dahulu.

Jumlah stock terbatas & jangan sampai kehabisan!

Free ongkos kirim untuk wilayah Jakarta & Surabaya.

Ramesia menerima segala jenis jasa perbaikan mesin HORECA.

Ramesia menerima penjualan dengan faktur pajak.